navigation
:
equipment
>
mitsubishi
> lossnay
Mitsubishi Electric - Lossnay
Lossnay heat exhange ventilation units
Developed and refined over the last twenty years, the Lossnay range of total heat exchange units allow the extraction of stale air and efficient recovery of heating or cooling energy to treat incoming fresh air.
Air is distributed to and from the the space via ductwork and grilles with the equipment usually hidden in the ceiling void.
Principal of operation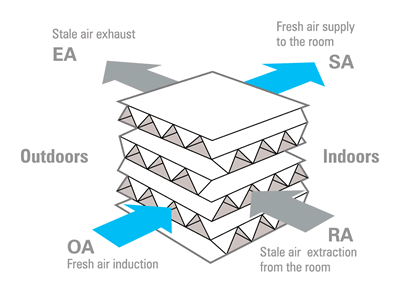 The secret of the Lossnay system lies in the cross flow plate fin structure of the heat exchange unit.
A diaphragm made of specially processed paper fully separates inlet and exhaust air supplies ensuring that only fresh air enters the indoor environment.
Energy is recovered from the stale exhaust air meaning that no further heating of the fresh air stream is required for most UK applications.
Lossnay systems are particularly suitable for use in areas with high occupancy levels such as call centres and offices, and ensure that recommended fresh air rates are maintained.
Two types are available :
LGH RX4
LGH RX4 - Commercial series for use within ceiling voids with ductwork. Available in 8 sizes with air flows from 150 cu.m/h to 2000cu.m/h.
VL100U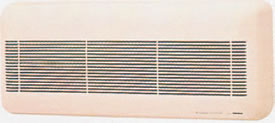 VL - Residential series for surface wall mounting. Available with 100cu.m/h air flow.
For more information - please click on the following links to download the relevant pdf files:
product information
LGH RX4 product information

VL product information
operating instructions