navigation
:
equipment
>
mitsubishi
>
city multi
> ducted
Mitsubishi Electric - - Ducted
Ducted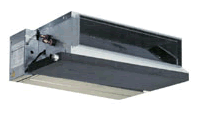 City Multi ducted indoor units are available in capacities from 2.5kW to 28kW. Air is distributed to the space via ductwork and grilles with the equipment usually hidden in the ceiling void. All units are capable of heating and cooling.
Four types are available :
PFD-P-VMA - Mitsubishi Electric's new Close Control System is specifically designed for computer rooms, laboratories etc, where a need for high sensible cooling and close control of temperature and humidity is required
PEFY-P-VML-E - The low height ceiling concealed ducted indoor unit is particularly suitable for buildings where space in the ceiling void would not be sufficient for a standard unit
PEFY-P-VMM-E - Standard ducted unit.
PEFY-P-VMH-E - Increased external static pressure ducted unit
For more information - please click on the following links to download the relevant pdf files:
product information
PEFY-P-VMH-E product information

PEFY-P-VML-E product information

PEFY-P-VMM-E product information

PFD-P-VM-A product information
operating instructions