navigation
:
equipment
>
mitsubishi
>
ecodan
> new build
Ecodan New Build Case Study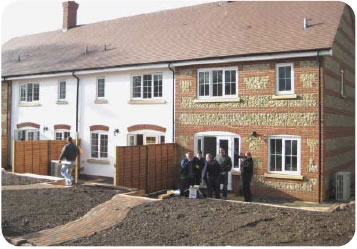 Designed to Save Energy
Ecodan heat pumps are ideal for use on new-build projects. The low running
costs and excellent heating performance make Ecodan an attractive option for homeowners, housing associations and developers alike. Highfield Orchard in Shrewton, Wiltshire, consists of eight executive homes. The developer specified Ecodan to supply the space heating and hot water for a number of reasons.
As the site is off the gas grid, the developer originally considered oil. However, this was ruled out as both the installation and running costs were considerably higher than Ecodan. Highfield Orchard saw Ecodan as a highly cost effective
solution for this development.
All the properties have underfloor heating systems. These use lower flow temperatures than radiators and are a more efficient heat emitter. Underfloor
heating helps to maximise the long-term energy and running costs savings available from Ecodan.
Reducing Running Costs
The Highfield Orchard site includes varying sizes of property, with heating loads between 5.2kW and 8.3kW. Ecodan uses the latest inverter technology to ensure that the system delivers exactly the right performance to match the load
requirement of each property. That meant that the developer was able to specify the same system for every house, without the need to re-size or order
different units.
For any housing developer, the real test of the technology is its popularity with buyers. Heat pumps have certainly met with approval at Highfield Orchard and the developer considered the Ecodan an excellent selling point: it is viewed as 'sustainable'; has low running costs; and also leaves extra space in the kitchen where a conventional boiler would normally be positioned.